New Construction
---
In recent years, Turkey has created a high-quality yacht building industry in the region with its worldwide renowned yacht designers and design.
Especially, ISTANBUL and BODRUM, with their long history of expert yacht building, continues to build every kind of yacht and also with the highest quality of steel, wood, CTP, and Classical wooden Bodrum Gulet. Bodrum has built many worldwide recognized and award-winning projects and yachts by combining its own traditional wood expertise and modern yacht building designers.
İn Bodrum shipyards, many boats are built at world standards, and most of them are exported abroad. Some of them continue to carry out their responsibilities in the 7 seas by meeting the expectations of their owners. We provide you with the best consultant services necessary for you if you would like to build a yacht or buy a yacht in Istanbul, Bodrum, or the surrounding area.
Our shipyard is located in Bodrum. With 3.500 square meters of area, of which 1500 square meters are covered, new construction, refit & maintenance works can be carried out on any yacht.
We build wooden, steel, and aluminum hulled yachts according to international standards (CE, RINA, LLOYD, etc...) at our shipyard in Bodrum, Turkey.
Depending on the size of the yacht, the duration of construction may take from 08 to 24 months.
Yacht Construction Management
In the yacht construction business, we provide you consultancy during yacht construction in the shipyards to follow up on the construction agreements concluded mutually. All the necessary items are necessary for the yacht construction to prepare the yacht for sailing.
Since we command the yacht construction sector in Istanbul and Bodrum, the yacht's construction by providing the most talented engineers and masters in their professions while the boat is in the construction phase shall be under our responsibility to construct the yacht possible way.
As a team, we offer you the necessary consultancy in project follow-up of the yacht construction and provide every kind of yachting equipment. Since we know all the issues that may arise between the shipyard and boat owner during the boat's construction, we become your consultants and protectors, stand by you, to solve any problems that may come out during the construction.
Our team makes the arrangements to hire the personnel at international standards when the boat transfer is necessary.
Yacht Purchases Management
In yacht purchases, we provide you with all the important information about the yacht, starting from the information available at the shipyard in which the yacht was built, together with all the maintenance and repair records of the yacht.
Briefly, we become the EYES of your investment here. Moreover, we assist all our clients whom we consulted in yacht building or purchase, their personal needs, and the preparation of a professional crew.
BUILDING NEW GULET
A gulet is a traditional design of a two-masted wooden sailing vessel from the southwest coast of Turkey. However, similar vessels can be found all around the eastern Mediterranean now. Today this type of vessel, varying in size from 14 to 45 meters, is popular for commercial and private use, and sophisticated building techniques are used in construction for epoxy-coated laminated wooden or steel hulls. Over the years, gulets have evolved from traditional fishing and cargo vessels into their present profile of a broad beam and wide deck. Constructed mainly in the shipyards of Bodrum and Istanbul. The boats are equipped with diesel engines as well as fully functional rigging.
Private or Commercial Use?
One of the most important decisions made by potential buyers is whether the gulet will be used privately or commercially. Yachts used commercially either in Turkish or EU waters have different requirements that must be implemented during the building phase to qualify as a commercial vessel and avoid expensive refits.
Yacht size
Istanbul and Bodrum boatyards are currently building vessels 30 meters and longer, at which point they may be better deemed "ships." While most prospective buyers have an idea of what size boat they wish to build, it remains important to check that the boatyard chosen has the facilities to accommodate the desired size and previous experience with similar designs.
Types of Wood & Traditional Construction
While many types of wood are suitable for the construction of wooden boats, gulets have traditionally been made of pine, African mahogany, and Iroko (West African Teak). In recent years, epoxy laminate (mahogany) has been the building process of choice by most builders for strength and durability.
Steel Gulets
New techniques have allowed for excellent results with building steel-hulled gulets in Istanbul and Bodrum. The largest steel gulet built to date is 50 meters long, though only two boatyards specialize in steel construction in Istanbul and Bodrum.
Epoxy Laminate Gulet Construction
Epoxy laminate construction has been the choice in recent years for gulet construction due to its durability. Up to 7 layers of alternating mahogany veneer create a solid hull for modern gulets.
Certification
Another decision which the buyer needs to make is that of certification. The type of certification will depend on whether the yacht will be exported for commercial or private use outside Turkey and for future resale value. Turkish Lloyds, R.I.N.A., and U.K. Lloyds specifications for either the hull or the entire yacht can be applied in selected boatyards.
What will it cost?
Depending on the factors above and the electronic and other desired equipment, a wooden boat over 30m can be expected to cost between 2,000,000 EURO and 8,000,000 EURO with a delivery time between 18 and 24 months.
Custom Quotation
If you would like an estimate for a custom-built gulet, please contact us with your requirements, including the type of construction, size, number of cabins, and whether you intend to use the yacht for private or commercial reasons. We will return to you with the approximate costs and delivery time.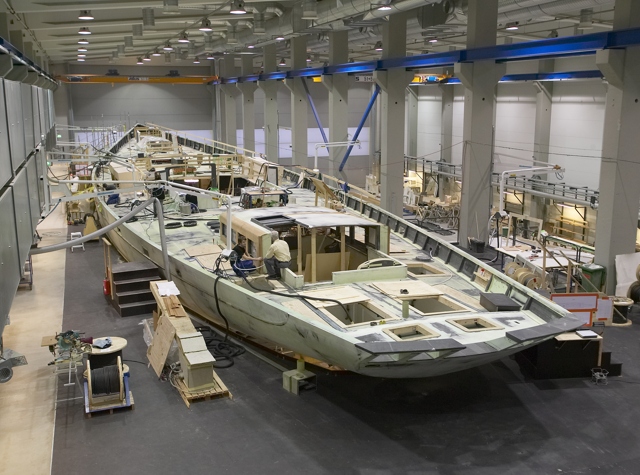 ---
You are here

New Construction